LockLizard eCommerce integration.
ProExe have developed eCommerce and shopping cart plugins that connect with LockLizard's Safeguard or Safeguard Enterprise software so users can manage their customers and distribute their digital downloads more effectively.
How does your plugin work?
The plugin, adds specific abilities to allow the shopping cart to communicate seamlessly with the LockLizard ecommerce module. It takes care of internet protocols, validation, communication feedback, error messages, data encoding, and the resulting raw data responses from the LockLizard administration system, whether this be a LockLizard hosted, or a own hosted solution
What does the plugin do?
The plugin will automatically assign your customers their
LockLizard
license, they will be able to view and download the license from their customer account area within the eCommerce site.
Can you install the plugin for me, or do I have to do this myself?
We recommend that ProExe installs the plugin for you, however if you wish to have your own web developer deal with this install, then we will issue them with the relevant files.
How do I get the plugin?
Contact us at
sales@proexe.net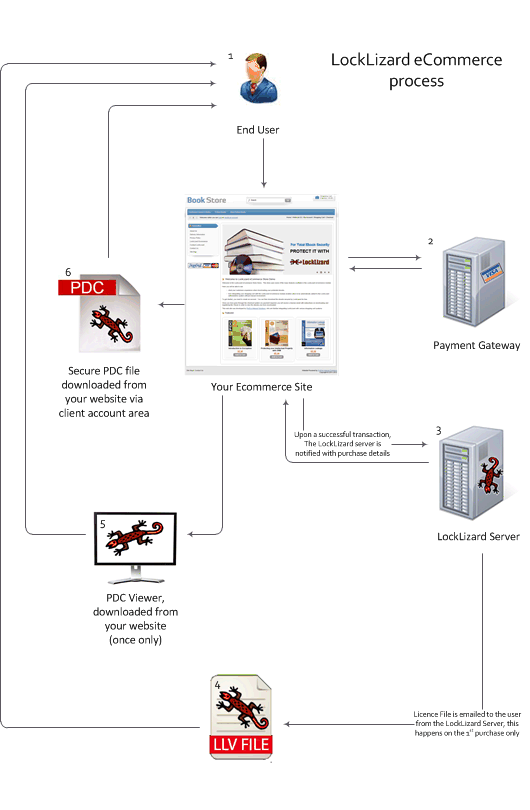 For a better understanding how locklizard works then why not download our
eCommerce Work Flow
(PDF)
eCommerce Plugins.
ProExe have developed LockLizard plugins and extensions for the following eCommerce shopping carts.



ProExe are currently developing eCommerce plugins for other shopping carts, the list of shopping carts will grow, as soon as we complete one, it will go on the list. If you do not see your shopping cart in the list above or you need your shopping cart customised, then please goto our contact page
Customisation
Proexe have a custom built web based application that will allow users to create their digital download on the fly. Visit our LockLizard command line site to run a demo.
LockLizard
LockLizard's Safeguard PDF Security protects your PDF documents from unauthorized viewing, copying, sharing, modifying, printing (including how many times), and saving. Control how long your documents are viewed and instantly revoke access in real-time. Prevent your PDF content from being readily pirated by stopping screen shots from being taken.
LockLizard's Safeguard PDF Security protects your PDF documents no matter where they reside, enforces the security policy governing their use, and allows you to dynamically change how that information is accessed at any time even after distribution. Unlike weak and unmanageable password mechanisms, LockLizard's Safeguard PDF Security uses public key technology transparently with strong AES 256 bit encryption and DRM controls. As a result there are no passwords to send, enter, manage, forget, or pass onto others.
Pricing
** Cost is for ProExe eCommerce API and eCommerce API Manual only. Integration would need to be done by yourself.
All prices are excluding UK VAT at 20%. If you are based outside the UK and are a business, then tax is not applicable. Proof of being a business would be require.